By Richard Roshon, Lecturer, Author, Kayak Entrepreneur Established 1975
A COLLECTION OF ARTICLES
Life, It's all about the Journey
By Richard Craig Roshon
Part II
The year 2020
Aloha
"A Journey is a person in itself; no two are alike. We find after years of struggle that we do not take a trip; a trip takes us". John Steinbeck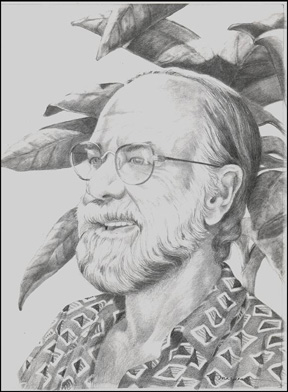 From the writings of Paramahansa Yogananda "Everyone in this world is, simply,
himself. The moment of a baby's first cry, therefore, is the point from which the
horoscope for the baby is written. We are born into this world, into families as a guest. Being transient, we should take nothing outward as defining who and what we are.
Every human being must follow his own star. The higher one rises toward inner freedom, the more imperative becomes this advice.
"If you have always had a special feeling for the mountains, or the sea, you may be certain you brought that attachment from another life." Paramahansa Yogananda – Man's Eternal Quest
Where it all began, born Nov. 2nd 1945 in a small village town in eastern Pennsylvania. Four seasons, Winter, Spring, Summer and Fall. Ice Skating, sledding, warm clothes. The awakening from Winter to Spring, from Summer to the colors of Fall, this is where it all began.
MEMORIES: I remember a large heater in our living room where we would place our clothes to warm them. Walking to the bus stop, talking, laughing, perhaps even a song or two. Looking out of our living room window --the quietness of a snow fall passing by the Christmas lights strung across the street.
Marcia my sister (6 years younger) --our game was to see who would be the last one to say Good-night. Saying it softly so that the other could barely hear, when finally Mom or Dad would yell up to us "Okay enough go to sleep".
After a day at school and all through the summers I had a job, working at a small gas station pumping gas for customers and cleaning their windows. I also worked for my grandfather who owned a plastering business, and I would help Dad who drove a cement truck.
1963, 17 years old, -- two weeks out of high school was followed by nine weeks of Navy boot camp, in San Diego. After which I was flown to Japan to board a Navy Destroyer bound for Viet Nam, home port Pearl Harbor, Hawaii. After my discharge I never returned home to live. And once again as Yogananda writes, "we are born into families as guests".
Upon my first sighting of Hawaii, I felt "I had been here before"; it felt so familiar, as though this was not my first time to these islands.
On my days off, during our 6 months in our home port, I went surfing and once again I had done this before. After wards in the evenings I washed dishes in a restaurant.
MY JOURNEY BEGINS
A Life with the SEA
"What is it about the sea that so persistently draws man to itself? The pitching rhythm of the sailboat, and the warm wind all help to relax the strain of living on land. On the sea, one's worries dissolve as they do in an opium dream; time and place have no reality or importance. The sea provides everything; one's environment ceases to be oppressive".
Words from: To Challenge a distant Sea by Jean Gau- Crossed the Atlantic Ocean eleven times, and circumnavigated the glove twice (ALONE).
After my discharge from the Navy I was waiting tables. Six months later I had saved up enough money and for the next 3 years I crewed on sail boats (someone was always looking for a crew), Crossed the Pacific, the Atlantic and throughout the South Seas with back pack, surfboard and sleeping bag in search of waves.
MEMORIES: We never think that in our younger days that a way of life would come to and end. However nothing lasts forever. From my surfing days, a time when there were more waves than surfers. Sailing thousands of miles from land for weeks at a time I feel so alive. The wake of the sailboat brings the glitter of phosphorous alongside while seabirds fly by and into the darkness of the infinite.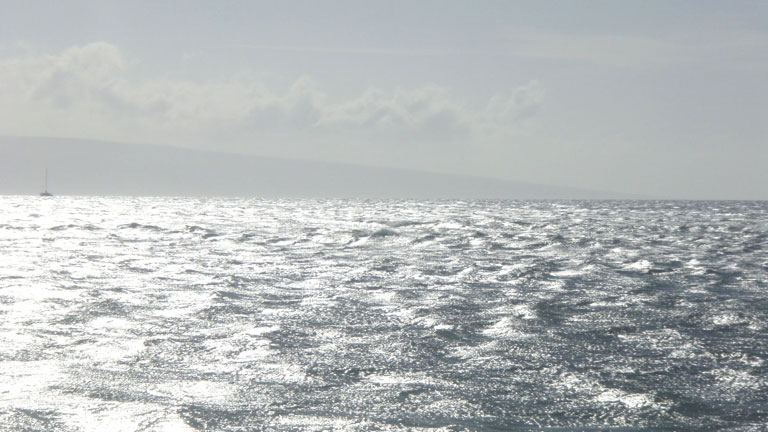 In the Southern Hemisphere where the air is clean, I sit by the helm on a night watch looking up into the universe where there is no space between the stars. I feel that I am not only sailing upon the worlds oceans, but sailing up into the universe where there is no end. As the sailboat plows along, the past becomes distant, the future as unpredictable as the rolling ocean.
Nights drifting between the islands of Hawaii in my Eskimo Expedition Sea kayak, while during the winter months North Pacific Humpback whales lie by my side. MEMORIES
The solitude of circumnavigating the islands of Hawaii by sea kayak as the Ancient Hawaiians once did in their canoes, gives me a whole new perspective as to the fragility, importance and beauty of all life, (Aina) the land (Kai) the sea, rising from the sea floor millions of years ago.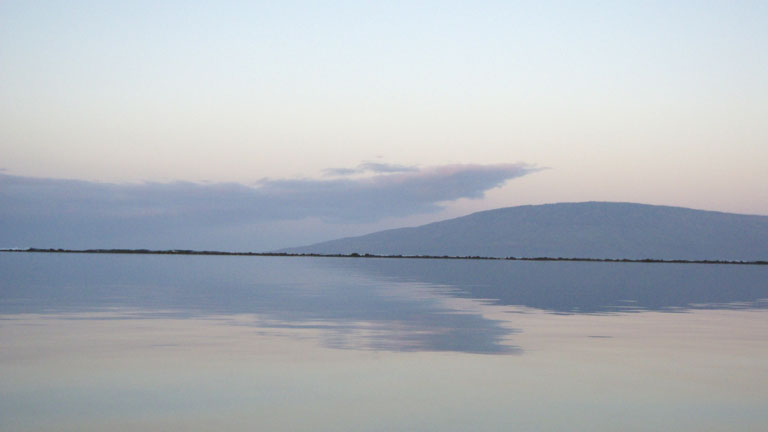 MEMORIES: As I sit under a palm tree, looking across the blue Pacific, the sun sets behind the Island of Lanai, I see my first spout of the year and the arrival of North Pacific Humpback whales. Throughout the past 4 decades the whale has been my mentor and a reminder as to the value of each breath of life, for there is much of life that we can learn from nature – "If you listen-You will see".
The sun sets followed by tears, I am reminded that nothing lasts forever, not even the once frequent daily sightings of N. Pacific Humpback whales once seen lying along outside reefs and within shallow bays throughout the day un-disturbed.
More than 4 decades of observations from my sea kayak, I feel that the migration of North Pacific Humpback whales will not last much longer. The seas are warming creating=less oxygen=less food=less life. 2018 recorded the warmest sea temperatures on record. Sun penetrates down to about 300 feet. In 2018 seas showed warming down into the abyss of 1000 feet.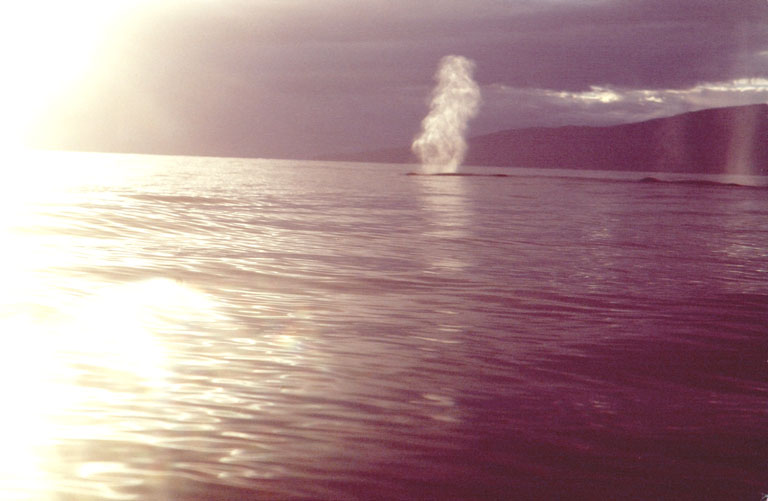 Excerpt from: Arctic Dreams by Barry Lopez – the year, 1823 - Between Baffin Bay and Greenland, British whalers alone in one season killed 2000 whales. I can only imagine the natural life that once existed on this planet. Can you imagine, and in just one area.
From the diaries of whale man: Dangers at sea were not uncharted lands or storms, but whales, NATIONS OF WHALES. NATIONS OF WHALES – can you imagine?
An excerpt from my self-published book: From the journal of Daniel Boone, frontiersman born Nov 2, 1734, "A squirrel could get on a tree in Maine and go all the way to the Mississippi river without touching the ground". Daniel Boone and I were born on the same day, Nov.2nd. – Two hundred and eleven years apart. Is there a connection?
It all began more than 40 years ago, when I crewed on a sailboat from my home in Lahaina, Maui to a quaint little seaport town of Port Townsend, lying on the Olympic Peninsula of Washington State where I was introduced to the Eskimo Expedition Sea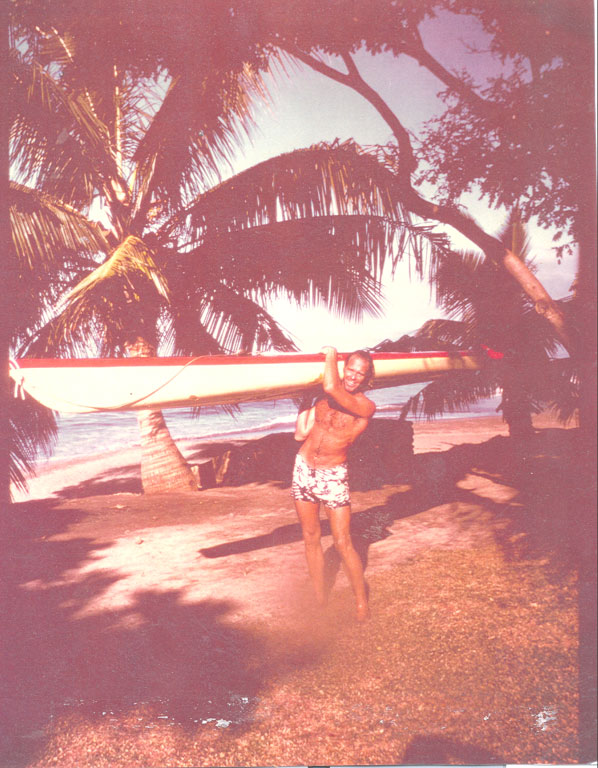 Kayak. Upon my arrival back home 2 friends helped me build a laminated plywood Eskimo kayak.
I terminated my restaurant career of over 15 years after the opening of Kimo's Restaurant in Lahaina, in 1977 and took the job as a beach boy at the newly built 5 star Kapalua Bay Resort.
Living in Lahaina and without an automobile I would pack my kayak around 1AM with stores for 3-4 days, and paddle the 10 mile coast line to Kapalua Bay, arriving around 6AM to rake the beach and set up for business.
It was during those early morning paddles of peace & quiet that began the foundation and a way of life, observing nature peacefully & with respect from the Eyes of a Kayak.
MEMORIES: If you "Listen you will See". From the Eyes of a Kayak in the darkness I became aware of the movement of currents, the smell of the air, up-coming wind, and as time passed into the winter months, under a star lit sky, the songs and breathing of North Pacific Humpback whales filled the atmosphere.
As years passed I could tell in the darkness as to the number of whales in a pod, if it was their last breath before sounding; if there was a mother and calf present, all told by the sounds of their breathing. Their song echoes through the world's largest echo chamber, and into our atmosphere; a symphony of song one stroke at a time.
March 17, 2020-2:45 AM – Lying fully awake silence is suddenly broken by four distinct sounds. It only took a moment to realize I was hearing the breathing of North Pacific Humpback whales. Boisterous breathing from 4 whales, and I knew they were moving fast by their exhalation. I lie peacefully in bed listening to whales breathing. Another moment with nature, and I am blessed.
(Cooler air is more dense, and therefore sound has more velocity. Years in my kayak the breathing of whales can be heard from miles away. Such as in the depths of the sea--water is cooler, more dense and the whale's echolocation has more velocity, which can travel several hundred miles). That is why I enter the sea as I would enter one's home – Peacefully and with Respect, from my sea kayak.
(Antarctic & Arctic explorers in the early days of discovery mention that one could hear a conversation from a mile away. Reason clean air).
Listening and watching animals always slows you down, allowing you to live in the moment – for the past is gone, the future? Only the present is real.
"It not only takes a long time of watching a species before you can say what it is doing; It takes a long time to learn how to watch & Listen. Days and nights drifting in my sea kayak I had these moments of pleasure, and peace.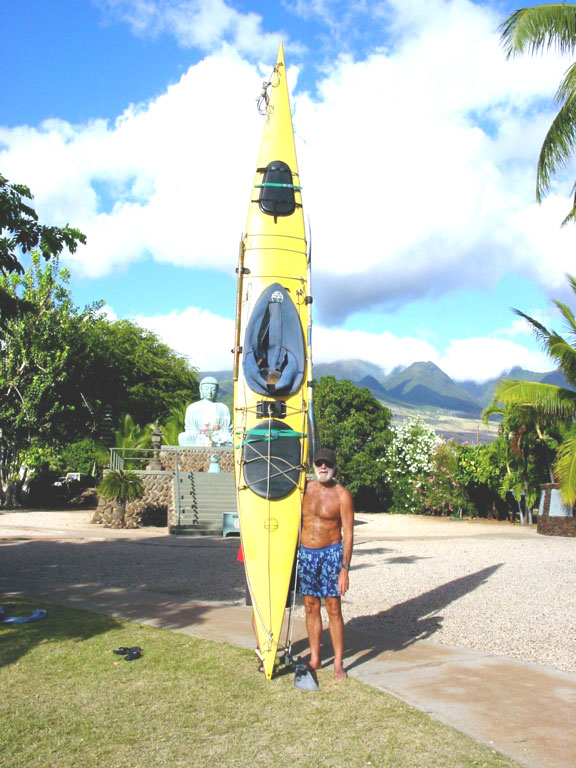 I have presented over 1000 presentations on Maui, along with presentations to colleges, organizations and symposiums from Maui to South Africa.
The kayak became my foundation, which created awareness of the fragility of all life, and
the beginning of a life that was not planned, (cause & effect). As years passed I became my own one man endeavor as agent/marketer, lecturer/writer/author, film maker, and private kayak guide, introduced at times as the "Jane Goodall" of the sea, the Whale Man, the Kayak Man, Professor Roshon and even a Master Story Teller. A ONE MAN ENDEAVOR And to think, I barely made it out of High School.
I feel my life's Journey became possible due to the first sentence of my self-published book where I state:
"Anything is possible in life if you truly dedicate yourself, maintain sincere discipline and believe." However it was not easy.
Mr. Jean Michel Cousteau writes on the back cover of my book – "Richards life is one many dream of". Yes it has been quite a run, and when I look back I can not believe what I have achieved. Places I have lectured, people I have met, the self-publication of my book, the thousands of miles of kayaking throughout the Hawaiian Archipelago, my heart felt experiences with whales, and other sea life... Words cannot fully share my experiences which can truly only come from feelings within.
"Dwell on the beauty of life. Watch the stars, and see yourself running with them". Marcus Aurelius, Roman Emperor 161-180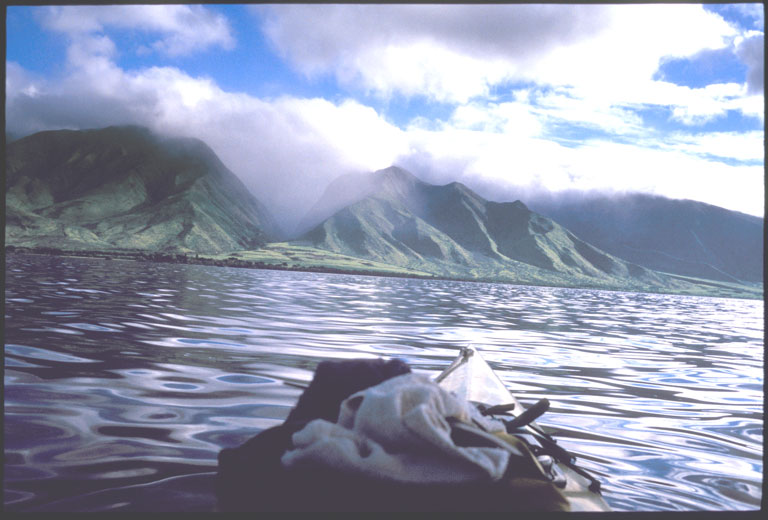 The kayak where one stroke at a time, I began crossing the 10-mile open ocean channels between Maui, Lanai and Molokai primarily at night under starlit skies when trade winds normally back down. Full moon paddles became spiritual moments.
"If you separate from...everything you have done in the past, everything that disturbs you about the future...and apply yourself to living the life that you are living- that is to say, the present---you can live all the time that remains to you until your death in calm, benevolence, and serenity".
When you arise in the morning think of what a precious privilege it is to be alive – to breathe, to think, to enjoy and to love" Marcus Aurelius- Roman Emperor 161-180
My life with nature created not only a meditative way of life, but also a truly spiritual way of life, which continues throughout my daily existence.
I'm not lecturing as I once did however from time to time I hear from those that have attended my presentations as far back as 30 years ago, asking me how I am doing? And due to my presentation they too now take time for themselves, disconnecting from technology and taking time out for YOU.
Technology has for many become and addiction. A large pod of spinner dolphins swimming along the coast, and no one notices. Smithsonian labels it as (A brain dead society)
I once asked a young man walking on the beach if he ever listens to the songs of birds. His reply "What for?" It saddens me. The feeling of the sand beneath your feet, the smell of a tropical breeze, the warmth of the sea the beauty of rainbows, and so much more GONE.



Everybody's looking down
Never Up or All Around
Everybody's looking down
From Sunrise till the Sun Goes Down
Everybody's looking down
While life just passes on by
By Richard Roshon
The Brain- is wider than the sky
For---put them side by side
The one the other will contain
With ease--- and you---beside
By Emily Dickinson



My self-published Volume
Ka Aina, Ke Kai, a me Ke Kanaka, He Mau Kako'o Nohona Mau a Mau "The Land, Ocean, and man, partners for Eternity.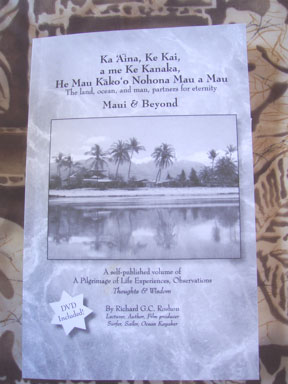 This volume of 340 pages took me 30 years to write. I had been writing several articles on my ELECTRIC TYPEWRITER – after a while I thought to myself, I think I have a book going on here. As of Jan. 2020 I have sold over 800 books, all books have been personally signed. $35.00
Herman and the Kayak Man – a story for young and old. Herman who stands only 6" tall stows away on board the kayak man's kayak. How Herman came to being can be read on my web site. Available in manuscript form $15.00
Availability of my writings can only be purchased through myself, as I personally sign each and every writing.
MEMORIES: I now sit on the beach and watch the spouting of whales, as only feelings from within are present. Since I sold my Expedition Sea Kayak, having logged over 30,000 miles, I feel so many times I've lost a portion of my SOUL as the kayak was and extension of my life, and the Whale, my mentor. How does one fill that void?
Part of my filling that void: I'm now back into my long swims. Twice about 40 years ago, I swam the 10 mile Auau channel from Lanai to Maui. Deep breathing, high stroke, all characteristics of a whale. When crewing on sail boats 1000's of miles from land, I would swim along side the sail boat, in the middle of the largest body of water in the world, with and average depth of 2 miles. When swimming upon the long open ocean ground swells, you really feel and know just how insignificant we as humans really are. Nature is in control. Today I'm swimming about 3-4 miles a week, out upon the depths of about 100 feet.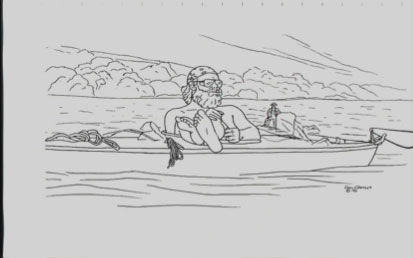 March 3, 2:30 AM I wake from a dream feeling as though I was in the presence of whales.
March 4th--My early morning swim – I'm far offshore -- As I look down to exhale, to my right a yearling North Pacific Humpback whale appears.
I again come up to breathe; then exhale, and "NO Whale". As I continue through my swim, I think? Was this a dream/illusion??? From last night?
Minutes later, the yearling appears only a few feet from my right side, and I know I am not dreaming. Together we swim to the rhythm/movement of the sea, in a weightless environment. When the yearling begins to head out to sea "I" feel as though my time has come and I begin to follow into the blue infinite. A moment perhaps as close to being in heaven while here on earth.
Is it a higher conscience that continually speaks to us? I am a true believer -- thoughts just do not pop into our minds – but are built on a foundation. However my inner conscience at the time repeats and repeats -- saying to me "No, No, No not yet, turn around --Reluctantly as I slowly turn for the shoreline the slow movement of the whale's flukes disappear into the blue infinite, and for that moment perhaps a portion of my Soul has returned.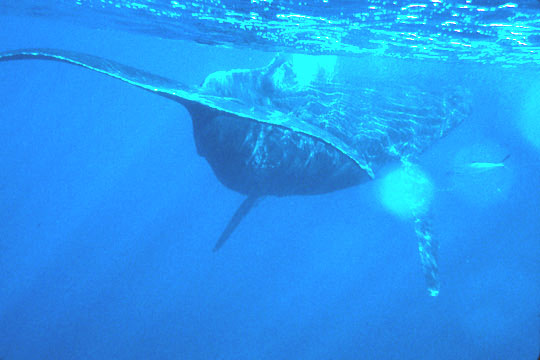 My life with the sea and its species has created a very sensitive existence, a true characteristic of this Natural Planet. For nature is extremely fragile, of which we cannot live without.
"We depend on the environment. The forest and oceans give us clean water and air. Our window of time for us is vanishing. We must get together to save this natural world." Jane Goodall
Excerpt from my self-published book. "Forty feet in length, weighing 40 tons, she rises slowly under my kayak, as I reach out to touch her, the outer layer of skin wrinkles. So sensitive.
Excerpt from Arctic Dreams by Barry Lopez – "so sensitive to touch that at a bird's footfall upon a whale asleep at the surface will start wildly".
The whale, a true example as to the sensitivity of all life in this natural world. I feel as though WE, (the human species) are playing Russian Roulette with the fabric of all life. For hundreds of years man-kind has been using this planet/its natural resources as a commodity. I feel Planet Earth is now saying "Pay back time".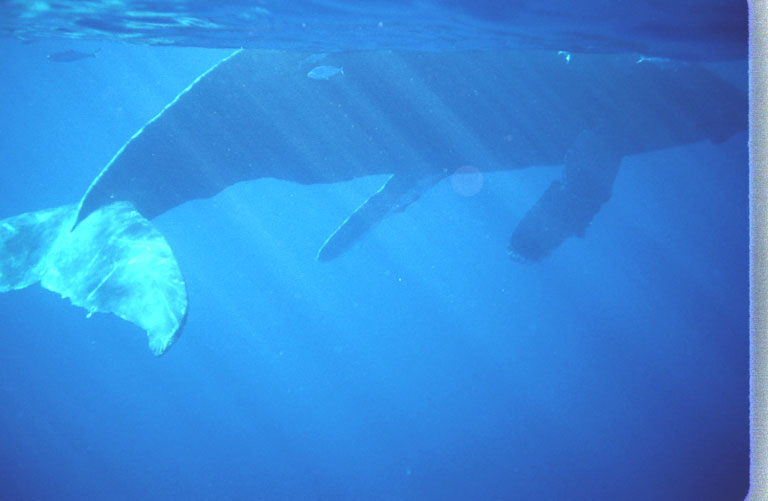 Gandhi once said "The world has enough for everyone's need, but not enough for everyone's greed".
And as Yogananda (a spiritual individual of India, and one that I read from) has said "I used to travel and speak before huge audiences. But I know I can better serve all through my writings", all of which I myself am now doing in reference to the preservation, importance and beauty of our worlds oceans, along with sharing my daily life experiences, and the importance of each breath of life. I will not be silenced.
I continually write many personal letters to friends and to those that have followed my life for decades, and remind them to find a quiet place and enjoy the moment of reading a letter.
As a writer, my letters always tell a story and may take weeks of re-reading, editing etc. Such as this newsletter which has taken me nearly 4 months to write. It's creative and fun.
At times I feel my life seems to be vanishing. A phrase often used in the sailing world "I feel the wind has been taken from my sails".
I do miss speaking, (it is my passion to share). I miss meeting people as I once did for so long. I miss the Kohola (the whale).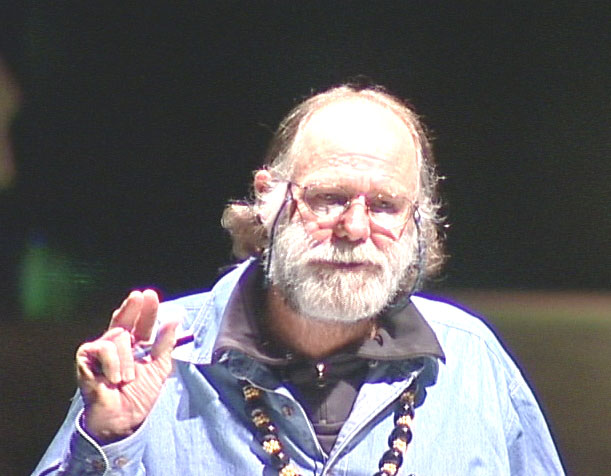 I have never thought of making lots of money. My life's purpose through my writings/lectures has always focused on teaching and sharing. I am blessed to have a home to live in, a bed to sleep upon, I eat well and exercise. I like to help people each and every day, being kind and generous. THIS IS WHO I AM....
MEMORIES: Life was not a job it was a WAY OF LIFE, TRULY A JOURNEY. Where did the time go?
TIME IS AN ILLUSION. Think about it, time really does not exist. If it were always dark, No Sunrise, No Sunset, No Moon Rise, No Moon Set – what time is it? It's always dark.
And since time is an illusion and does not exist – I wonder—Where did the time go? Thousands of miles I've sailed upon the world's oceans – where did the time go? Thousands of miles kayaking throughout the Hawaiian Archipelago – Where did the time go? Dropping in on some of the most beautiful surfing waves in the world, where I perfected my back side drop knee bottom turn--Where did the time go?
Think about it, if it were always dark – what time is it? The speed of light, the speed in which our life passes, suddenly where did the time go?
Time is and Illusion---In eternity, it's not even a second. Take time, take time to breathe, Take time for the moment, Take Time
Yes, where did the time go? My father passed away in 1992, he would always ask "When are you coming home?" With uncontrollable tears, I had a long talk with Dad at his passing. I never returned home to go fishing with my Dad.
Where did the time go? In June of 2019 I made reservations to visit my Mom and Sister. I had a feeling, and began preparing my Mom's eulogy – I just had a feeling.
On October 16th, 2019 at 98 years old, I by Mom's bedside along with my dear sister Marcia and her daughter Michelle -- Mom passed. I miss my Mom remembering how she would sit with me and help me with my home work.
Treat each moment as if it's the most important thing in the universe, while also knowing it's no more important than the moment that comes next.
My only two possessions: "My hammock and my library of books. From the classics to true adventure/exploration. I read of exploration in the early days of discovery, and those that have made solo journeys across our world's oceans. Their writings come primarily from their journals of which focus on the Power of the Mind.
The most incredible miracle of creation "The Mind", "The power of Will". For if you believe, really truly believe -- dreams/thoughts do come true.
Artic Dreams by Barry Lopez. The will to live. May 27, 1817, thirty hours after it had been harpooned, the Greenland Right whale was still towing a fully rigged ship at two knots into a moderate brisk breeze". The power of Will, the power of the Mind. I truly believe.
The year 1989 -"Voyage of the Yacht Seal" a chapter in my self-published book. Sailing from Japan towards the Bering Sea, we encounter a hurricane packing 60 knots of wind and 30 foot seas which rolled our sailboat onto its Port side, mast in the water. The depth of my prayers went far beyond ???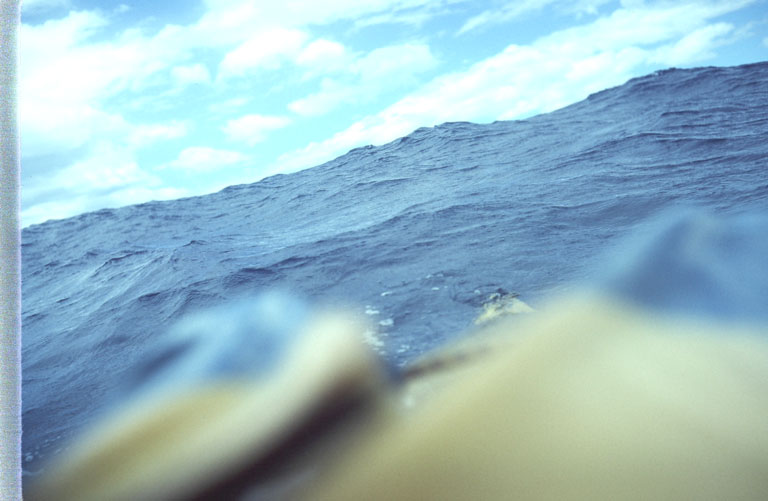 In the 1980's I made a kayak crossing of the 40 mile Alenuihaha channel which flows between Maui and the Big Island of Hawaii. Once outside the shadow of the 10,000 foot summit of Haleakala Crater I encountered 15 to 20 foot grounds swells. No wind, however so very much energy moving quietly. And I -- Continually telling myself "Go Forward". A 20 hour endeavor which took me into Waipio Valley of the Big Island, where friends were waiting. My body was tired. However the power of WILL the power of the MIND ???? I cried. MEMORIES
As Yogananda writes: "We should all have a quiet area in our home to focus on stillness and silence".
I meditate in Silence and Stillness each morning and evening.
After my morning meditation I read from the Bhagavad Gita, the Hindu Bible
known as the Song of God, composed in the 4th Century BC. A book that compliments many verses from the St. James Bible. A faith which honors and recognizes all life, and all faiths, for I believe we must live in harmony with all life. The Bhagavad Gita, as I mention on page 1, also states (The moment of its first cry, therefore, is the point from which the horoscope for the baby should be computed)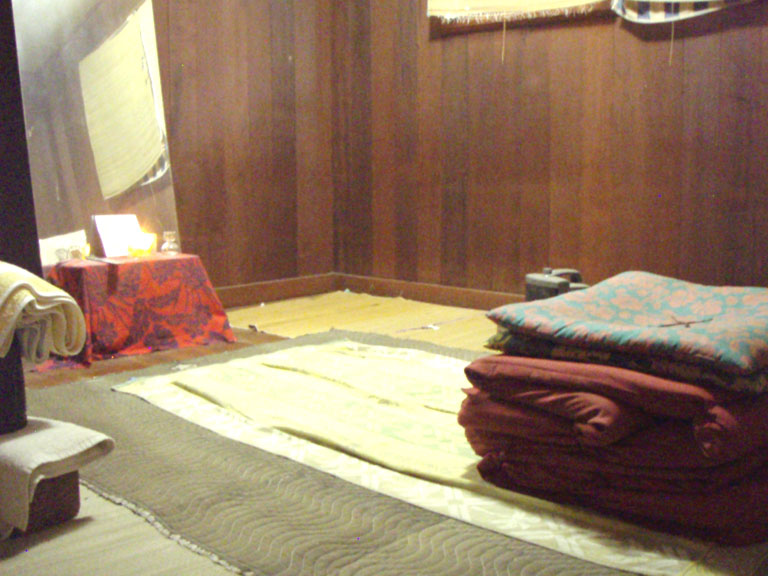 (Henry David Thoreau author of Walden Pond writes as he begins his day in his cabin by Walden Pond, 1845) "In the morning I bathe my intellect in the stupendous and cosmogonal philosophy of the Bhagavad Gita, since whose composition years of the gods have elapsed, and in comparison with which our modern world and its literature seem puny and trivial." And it continues further.
As a writer, I identify with "The Art of Stillness" by Pico Iver
"Writers, of course, are obliged by our professions to spend much of our time going nowhere. Our creations come not when we're out in the world, gathering impressions, but when we're sitting still, turning those impressions into sentences. Our job, you could say, is to turn, through stillness, a life of movement into art. Sitting still is our workplace, sometimes our battlefield".
"So I just sit and watch the clouds and the blue sky. Everything is STILL, and everything is moving. It's beautiful
"As soon as you sit STILL, you find that it actually brings you closer to others, in both understanding and sympathy".
My other favorite reading: "Silence" by Thich Nhat Hanh
"When we can sit quietly with a friend without saying anything, it's as precious and important as the resting notes we need in music. SILENCE shared among friends can be even better than talking". The best friend you can have is one you can sit with, never say a word, get up, walk away and feel like it's the best conversation you ever had.
"All the wonders of life are already here. They're calling you. If you can listen to them, you will be able to stop running. What you need, what we all need, is SILENCE. Stop the noise in your mind in order for the wondrous sounds of life to be heard. Then you can begin to live your life authentically and deeply"
After my morning reading, I most likely will head to the beach for my long swim out into the depths, or my Bikram yoga practice, where both include Deep breathing which in turn calms the mind and body.
(Since my Mom's passing I take a small pouch of Mom's ashes with me on my morning swims) Me, Mom and the energy of infinite light.
I've been blessed to have lived in the same plantation home for nearly 40 years; this is where my life began. Wood a living being such as a wooden sailboat that moves with the movement of the sea, my plantation house upon heavy winds also seems to have some movement. As the wind blows it whistles through my glass louvers such as the wind blowing through the rigging of a sailboat on the high seas.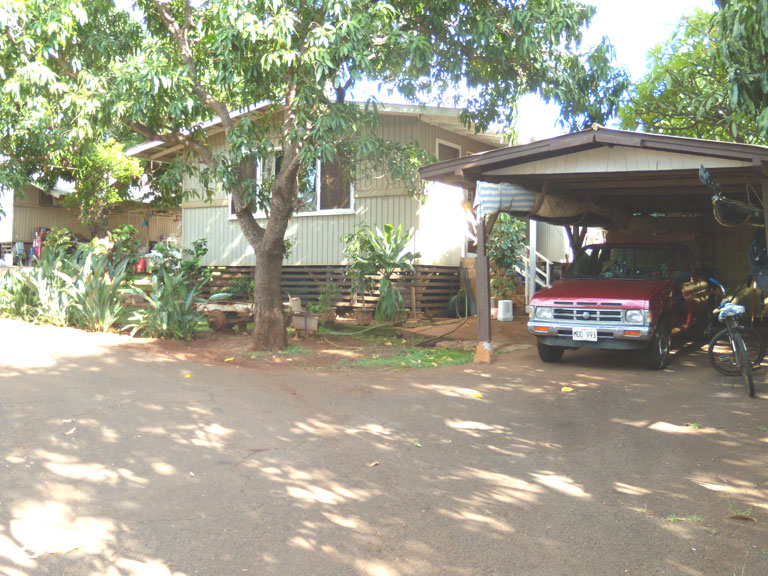 Through my daily prayers, I pray if it is God's will – I will stay strong in body, mind
and soul. My early days and my time with nature perhaps without knowing has been
a spiritual way of life, a way I have always kept to myself. I wonder - How can one not feel the presence of a higher entity when spending so much time with nature, in the presence of Stillness and Silence? Many have said my life has been a meditative way of life.
Life – A journey, a miracle.
It's the simple things in life that are important to me. "Less is More". The songs of birds, the feeling of the sand beneath my feet, wind, rainbows, as I lie in my hammock and create images from the clouds. I watch the stars of the Universe as they move on by, and I wonder, "The universe has no end, with hundreds of billions of galaxies". How can something not end?
"Nature – a cure for a healthy life, and "it's free", its peaceful and my way of life.
Take time, take time to breathe, Take time for the moment, Take time – Where did the time go? 75 years old on Nov. 2nd. 2020. Where did the time go?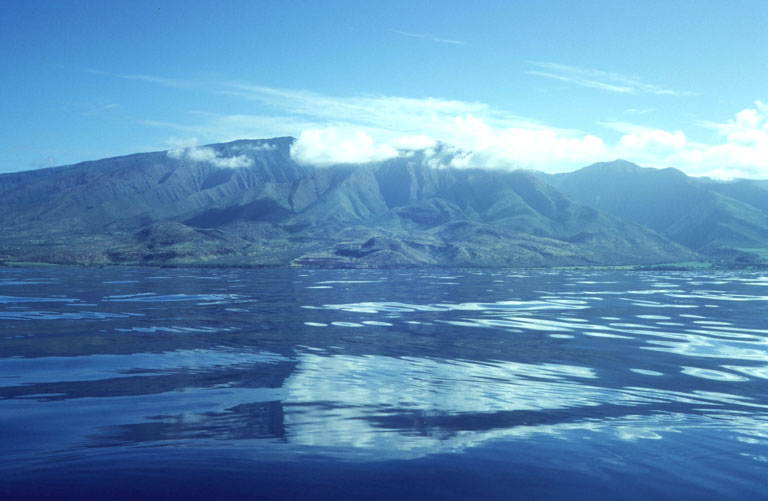 MEMORIES: As I sit under a palm tree, looking across the Blue Pacific, the sun-sets behind the Island of Lanai, and another day has passed. MEMORIES
All things have their time and place. (cause & effect)
"In the mountains, or the open seas, worldly attachments are left behind, and in the
absence of material distractions, we are opened up to a spiritual thought. When we look out at the ocean or gaze at the sky and the clouds, or even the rock wall of a mountain, it is difficult for our minds to form labels. What is it really that we are looking at? There is no real thing there—just color and shape. And when we stop attaching labels to what we see a sense of quietness flows in to fill the gap, bringing us a step closer to the understanding of emptiness". Touching My Fathers Soul, by Jamiling Tenzing Norgay
Touching My Father's Soul by Jamiling Tenzing Norgay
To live in peace with all life, to transmit positive energy to all is my way. Moments I have been stopped by passerby's saying that they felt a strong positive energy. I do not know how to respond. I receive compliments from friends and those that have followed my life, through my writings and lectures. I feel I have touched many people.
Richard: The honesty with which you write reminds me of my Native American friends and The Aboriginal People I was once fortunate enough to speak with. You have an animal spirit that attracts positive vibrations round you and although you are unable to hear the noises of the water (as you did in your former life) you will soon learn to hear other sounds of nature around you where you are now.
The transition is a moment for you to reawaken your own understanding of what else you can do in this life. How can you continue to contribute in a way that aligns with what your soul years to gift and be appreciated by the recipient?
Think BIG DREAM, then go and accomplish them. Age is not going to stop your stories. Wanda Harris, from Colorado
Over the years people I have met from India tell me my last name "Roshon" is from India which means "lighten – to enlighten". I am humbled.
TODAY: I feel that through the duration of my life I have spent more time with the sea/nature, primarily with North Pacific Humpback whales, than with my own human species. This has created a very sensitive, peaceful, calming moment as miles from land I drift between the channels of the Hawaiian Islands in my expedition sea kayak, while
during the winter months only the singing and breathing of whales fill the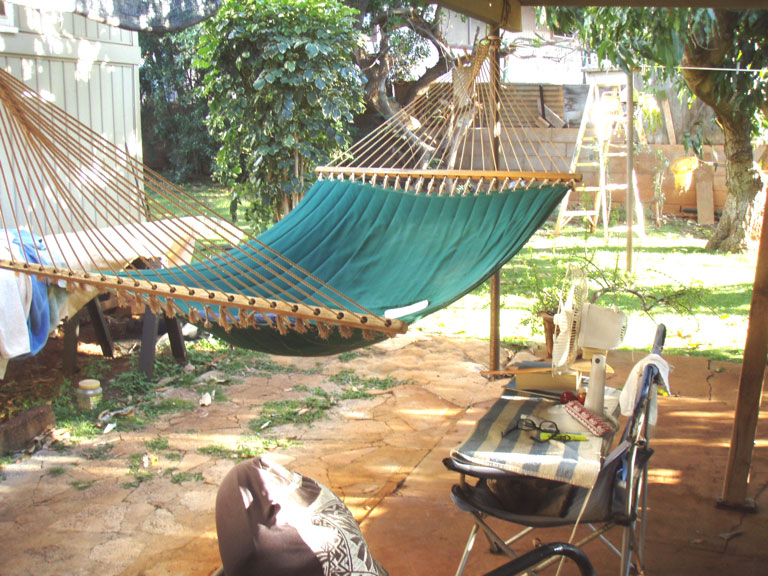 atmosphere.
Evenings at home, I lie in my hammock as I slowly rock back and forth, I wonder as I look out upon the universe. I listen to the singing of birds, the feeling of the wind, the stars in the sky as the moon passes over head. Those moments with nature create a calming peaceful experience. Silence is energy.
THE FUTURE: In order to keep my full coverage of medical insurance and my
VA pension I can no longer receive an honorarium for my lectures. My solution -- IT'S CALLED "GIVING BACK TO MAUI FOR THIS BLESSED LIFE I HAVE LIVED HERE IN HAWAII" My passion has always been to share, through my writings and lectures. I would like to introduce the availability of my lectures to non-profits here on Maui to raise monies where all admission fee goes to the non-profit, and perhaps in turn I can sell books.
Life has definitely changed. I miss meeting people, I miss speaking. For decades everyday was different. A private kayak experience, a page still on my web site. Marketing myself in order to attain lectures in which have gave weekly lectures here on Maui at two major hotels, --on the road to Universities, organizations etc. NOW, it's mostly over, and it is a void I'm having trouble filling.
Closing thought:
Thousands of miles from land, open ocean ground swells move silently, without interruption— without destination—with virtually no boundaries, they circle the globe of planet earth on and infinite journey.
The Sea's constant movement, unending energy, strength, calmness, spaciousness and secrets of the abyss are mystifying – A time in which the mind wonders, allowing peace, silence and stillness within.
Gazing upon the horizon, sea and heavens come together on a never-ending Journey. My thoughts go far beyond, and I too, long for that feeling of infinite, as the universe – there is no end.
All things – Earth and heavens are connected – we cannot live alone.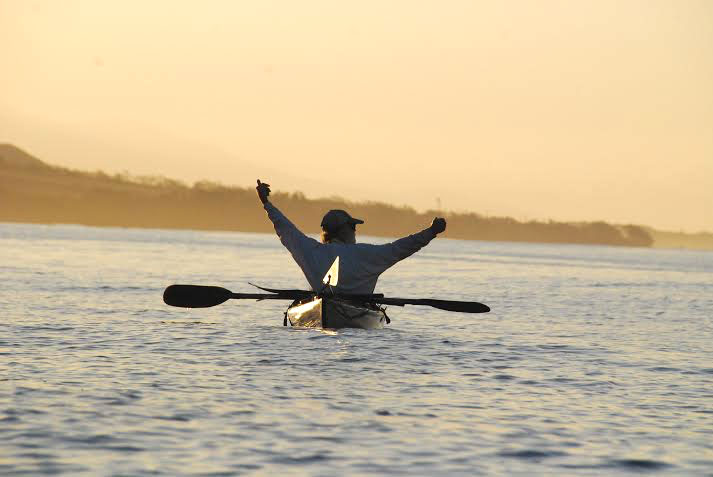 EVERYONE HAS A STORY TO TELL
LIFE: IT TRULY IS ABOUT THE JOURNEY


Richard Craig Roshon
www.hawaiiwhalesrus.com